NASCAR's 
Go Fas Racing and Keen Parts
Keen Parts and CorvetteParts.net sponsors talented racers at all levels. From NASCAR to TV shows to local dirt tracks- you will see the Keen Parts and CorvetteParts.net logos on winning cars driven by winning people. Keen Parts and CorvetteParts.net have been proud to sponsor the NASCAR Go Fas Racing team for the past five seasons. Go Fas Racing is owned by Archie Saint Hilaire while his son Mason serves as the teams' General Manager. Although they are a relatively new, smaller race team they have made great strides over the past few years.
Go Fas Racing Driver Matt DiBenedetto
Matt DiBenedetto is the talented driver of the Go Fas Racing #32 in the NASCAR Monster Energy Series. Last year, Dale Earnhardt Jr. called Matt "One of the most underrated drivers in the series." Matt was in third place in this year's Daytona 500 with only THREE laps left to go when he was taken out in a heart-breaking wreck. His future is bright in NASCAR, and Keen Parts is thrilled to be a part of it.
Go Fas Racing Keen Parts Darlington Throwback Paint Scheme
Fans and drivers both looked forward to the 2017 Southern 500 at Darlington Raceway and the NASCAR Throwback weekend with paint schemes to honor teams and drivers from 1984-1989. Tom and TJ Keen (owners of Keen Parts) chose a tribute to Bobby Allison who drove the Miller High Life #12 to a win in 1988 Daytona 500. Fans LOVED the throwback design, and driver Matt DiBenedetto told NASCAR.com: 
"There are a lot of really cool throwbacks out there, but man it's such an honor to run this car. Bobby Allison was and is a legend to the entire sport, and to race a scheme that he ran is such an honor. Tom and TJ Keen from CorvetteParts.net came up with the idea, and obviously, we couldn't turn that down. This is the type of scheme that the throwback weekend is all about."
NASCAR "Paint Scheme of the Year" Contest
NASCAR held a national contest on Twitter where they asked all racing fans what their favorite paint scheme was in 2017. Out of ALL of the NASCAR teams and all of the race cars in all 36 of the NASCAR Monster Energy series races, the Go Fas Racing  / Keen Parts  / CorvetteParts.net Darlington throwback design won! The team at Keen Parts could not be more proud.
What better way to celebrate the victory than to create two die-casts to honor the Darlington throwback design? The folks at Lionel Racing just shipped the first batch to us, and they look great! There are two sizes, 1:24 scale (the size of a standard model kit) and 1:64 scale (the size of a "Hot Wheels" car). Both are detailed and would look great in your NASCAR collection!
Display model not for sale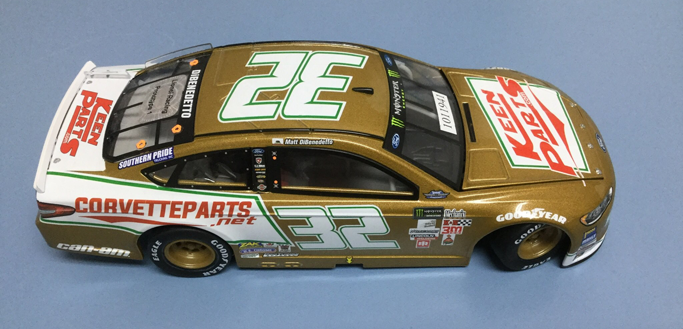 Who are Keen Parts and CorvetteParts.net?
Keen Parts and CorvetteParts.net are merely two different names for the same family run company. Keen Parts is a leading manufacturer and retailer of Corvette parts and accessories. We have over thirty years of happy customers all over the world and look forward to helping you with all of your Corvette needs. Our catalogs cover more than 25,000 Corvette parts and accessories. Our retail shop and warehouses are located in Cleves, Ohio just north of Cincinnati. We are right off Interstate Highway I-74 and only six minutes from Cincinnati. We stock parts available for Corvettes from 1953 to the present. If you own a C1 through C7 Corvette- we have the Corvette parts and accessories that you need!
Business hours
Monday through Friday 8 am to 6 pm
Saturday 9 am to 3 pm
Closed on Sunday to be with our families
Phone / FAX / Email
800 . 757 . KEEN (5336)
info@keenparts.com
800 . 757 . 5336
513 . 353 . 3449 LOCAL PHONE
513 . 353 . 3997 FAX
We would love to hear from you!
We are located 10 minutes northwest of Cincinnati, Ohio just south of Interstate Highway I-74
Keen Parts, Inc.
6048 State Route 128
Cleves, Ohio 45002