Rare Carter Carburetor Technical Service Bulletins
If you own one of the earliest Chevrolet Corvettes, you understand the joys of the Carter carburetor "side draft" design. I have a dear friend who saved his money in High School and purchased a used 1954 Corvette. He still drives it regularly over sixty years later. After tweaking the carbs dozens of times over the decades, he is likely the only person who would not benefit from the following Carter carb technical service bulletins. For the rest of us- these could be a big help.
Carter Carburetor Form 3612 from January, 1954
1954 Chevrolet Corvette Idle Speed, Idle Mixture, and Throttle Linkage Adjustments 
This service bulletin describes the procedure to synchronize the throttle valve positions and adjust the idle mixtures of the front, center and rear carburetors. Topics include: Preliminary Linkage Adjustments; Checking to Perfect Synchronization of all Three Throttle Valves; and Idle Speed and Mixture Adjustment using a Tachometer and Vacuum Gauge.



Carter Carburetor Form 5039 / Chevrolet 2066S-2066SA from January, 1954
1953-1954 Chevrolet Corvette YH Horizontal Carburetors
This service bulletin includes carburetor specifications; carburetor adjustments; parts identification and parts number lists.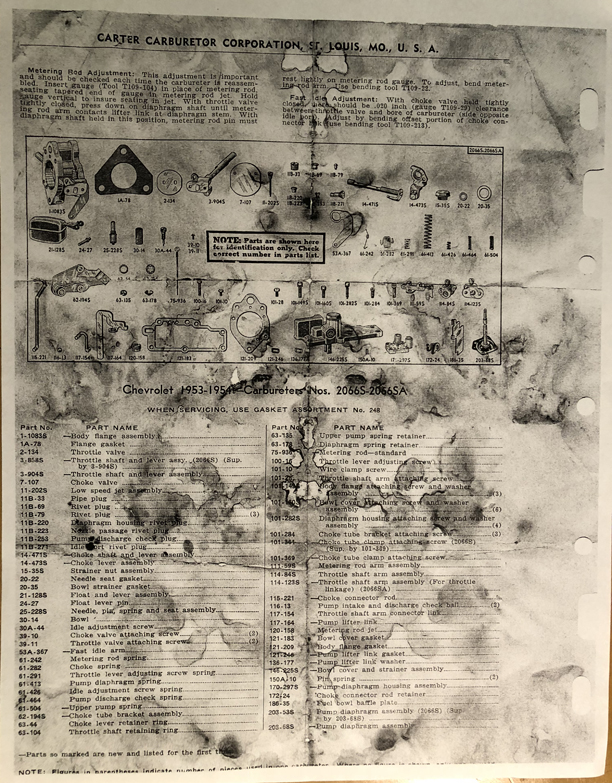 Keen Parts
Keen Parts is a leading manufacturer and retailer of Corvette parts and accessories. We have over thirty years of happy customers all over the world and look forward to helping you with your Corvette needs. We are not some anonymous Corvette website. Our retail shop and warehouse are located in Cleves, Ohio just north of Cincinnati. We are right off Interstate Highway I-74 and only six minutes from Cincinnati. We stock parts available for Corvettes from 1953 to the present. If you own a C1 through C7 Corvette- we have the Corvette parts and accessories you need!
Business hours
Monday through Friday 8 am to 6 pm
Saturday 9 am to 3 pm
Closed on Sunday to be with our families
Phone / FAX / Email
800 . 757 . KEEN (5336)
info@keenparts.com
800 . 757 . 5336
513 . 353 . 3449 LOCAL PHONE
513 . 353 . 3997 FAX
We would love to hear from you!