What's under the tarp: t
he Yard Find Story
Let's get everyone up to speed!
Kevin had always been a "car guy"- collecting and enjoying several classic Chevrolets over the years. In 2014, he learned that the father of a co-worker had an unusual car sitting in the back yard covered by a tarp. The car was stored in the back yard for FORTY YEARS!
The family was impressed by Kevin and his vision for the car. They didn't want to see someone flip their baby for a quick buck. They sold to him instead of others that offered more money. Kevin confirmed the family's trust by turning down a substantial offer immediately. The car was an early 1958 Corvette and pretty much all there.
Some general data on 1958 Corvette J58S100317
Chevrolet only built 9,168 Corvettes for model year 1958. By anyone's definition, #317 is an extremely early car as it's in the first 3% manufactured! Model year production started on October 14, 1957, and Kevin's car rolled off the Saint Louis, Missouri  Corvette Assembly line (most likely) on Friday, October 25.
This production data comes from the Corvette Birthday Book and is based on Chevrolet's Final Monthly Serial Number data that is confirmed/modified by research, GM-UAW Contracts, Trim Tag data, etc. The VIN (Vehicle Identification Number) translates as "J" (Corvette model); "58" (1958 Model Year); "S" (Saint Louis Assembly Plant); "100317" (the 317th car built). There is nothing in the VIN that refers to engine size or type, color, etc.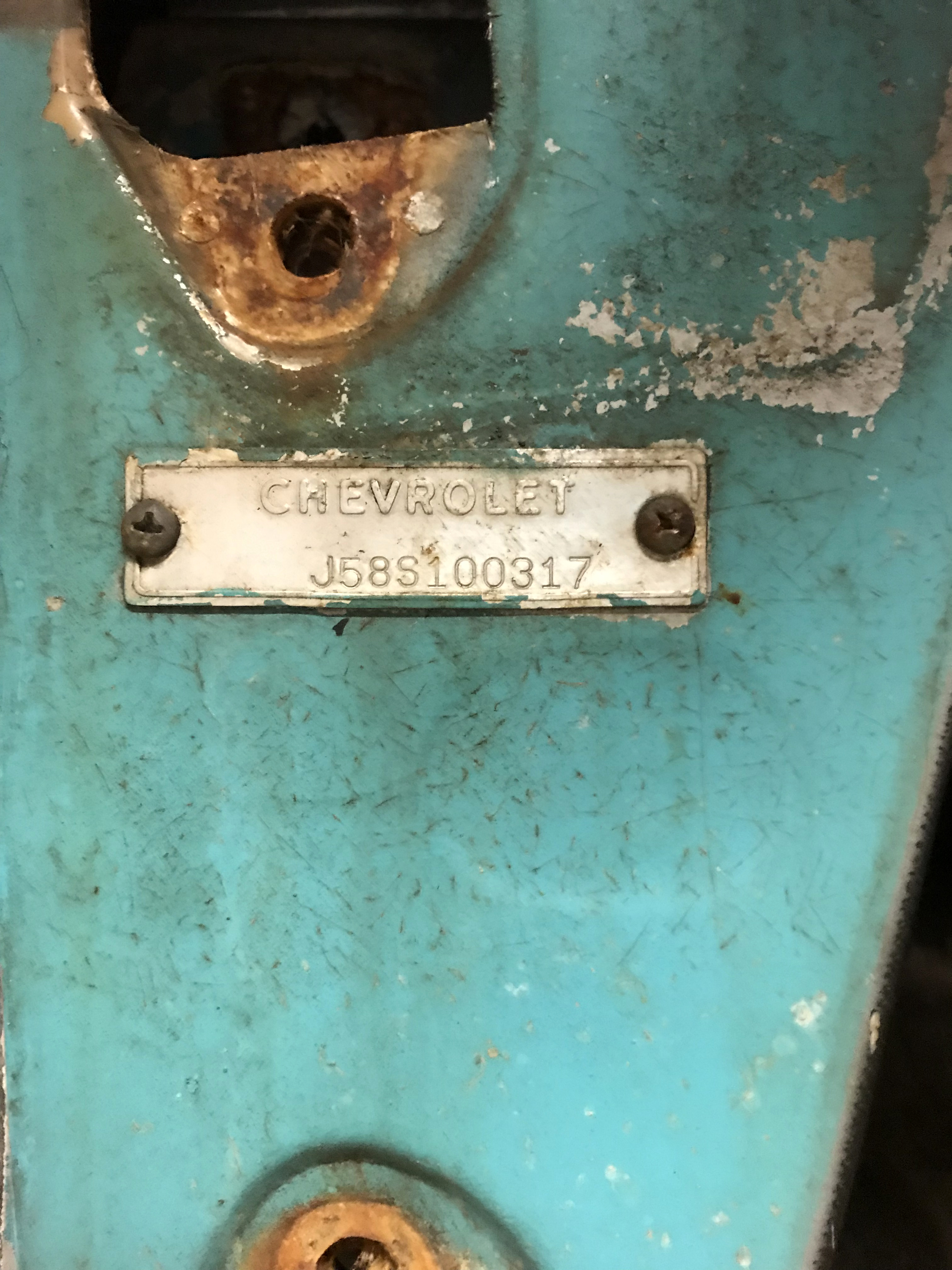 This is the Inspection Sticker on the windshield. It expired on April 30, 1976. The Corvette had been off the road for over 4o years!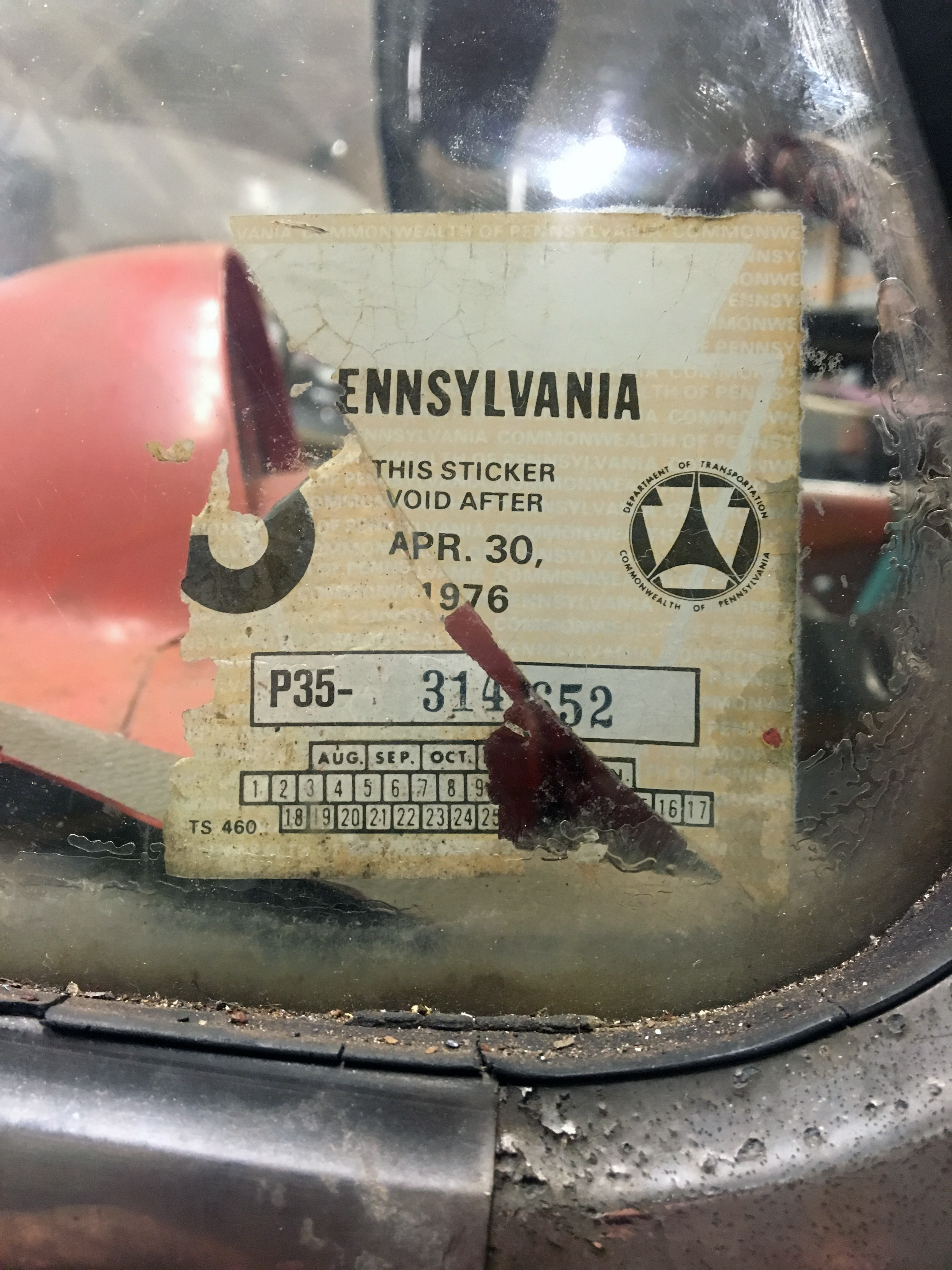 His unique vision for 1958 #317
Kevin realizes that this car has quite a story to tell. His unusual concept for the vehicle is to leave parts of it unrestored- especially the exterior. The vehicle will be cleaned up and everything will operate correctly because he plans to drive it. It will NOT become a "Trailer Queen." If it is restored to be bright and shiny and new- the story is gone. Here's a first good look at 1958 Corvette J58S100317.

Images to hold you over until the next blog
Follow the Keen Parts Blog, and we will tell you the ongoing story of the car's restoration. Here are a few images from the restoration in the next installment.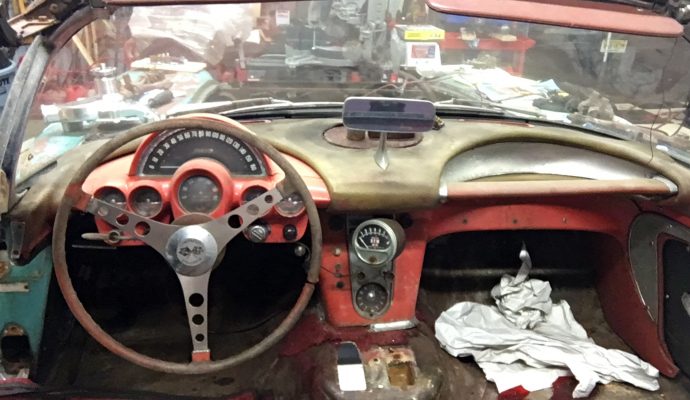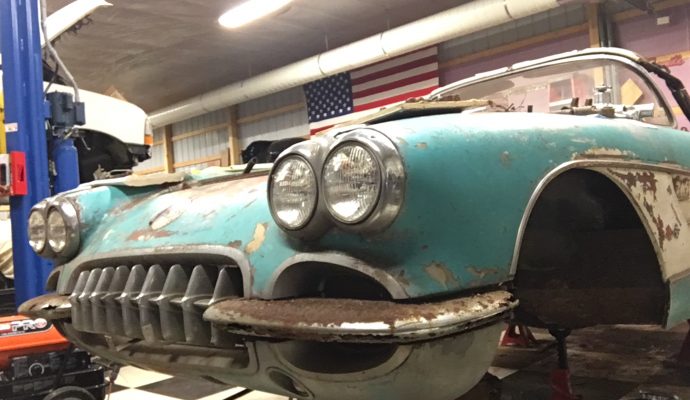 Who are Keen Parts?
Keen Parts is a leading manufacturer and retailer of Corvette parts and accessories. We have over thirty years of happy customers all over the world and look forward to helping you with all of your Corvette needs. Our catalogs cover more than 26,000 Corvette parts and accessories. Our retail shop and warehouses are located in Cleves, Ohio, just north of Cincinnati. We are right off Interstate Highway I-74 and only six minutes from Cincinnati. We stock parts for Corvettes from 1953 to the present. If you own a Corvette- we have the parts and accessories that you need!
Business hours
Monday through Friday 8 am to 6 pm
Saturday 9 am to 3 pm
Sunday closed to be with our families
Phone / FAX / Email
800.757.KEEN (5336)
info@keenparts.com
800.757.5336
513.353.3449 LOCAL PHONE
513.353.3997 FAX
We would love to hear from you!
Keen Parts is located 10 minutes northwest of Cincinnati, Ohio just south of Interstate Highway I-74
Keen Parts, Inc.
6048 State Route 128
Cleves, Ohio 45002