Help from the document experts 
Our last nine articles have discussed the importance of saving and preserving your Corvette's history. Hopefully, the financial return of providing this info to a future purchaser has motivated you to action. If you do not yet have a box full of photos and receipts relating to your Corvette, you might want to also re-read the earlier blogs. If you have collected your Corvette's history, it is finally time to meet the Document Conservator.
Consider clicking on the link below to read the series from the beginning. Each article is a quick 3-5 minute read with links to more information. The series is a condensed version of the advice I gave while answering the National Corvette Restorers Society (NCRS) national office phones for 30+ years.
Click here to read the first article in the series 
Meet the Document Conservator
Document Conservator is a fancy term from the study of fine art and antiques. The Document Conservator is just that – a person who has studied modern techniques of preserving and conserving very old forms of "paper." The best place to locate a nearby document conservator is through an internet search. The best place to get a recommendation as to the reputation of a specific conservator is through a large library or museum or contact a local university. The library or art department will have a Document Conservator that they work with.
Paper science is continually evolving. As a result, new high-tech methods can now save formerly unreadable items. Perhaps the conservator can even restore your unreadable Tank Sticker and prove that your Corvette is an L88! In addition to restoring your documents, the conservator can also preserve it. I recently watched a television show where scientists were able to read ancient burned rolls of papyrus (an early form of paper). Paper science has made incredible strides in recent years, and it is only becoming more unbelievable. Be sure also to read the previous blogs and get suggestions as to how to safely transport your valuable documents to the conservator.
Locating a Document Conservator
Before he or she can begin, the conservator will need a description of your item(s) along with many photos. The American Institute for Conservation (AIC) is the gold standard. The AIC will send a computer-generated list of conservators based on your complete description of the object(s). The file will even be compiled and grouped geographically, by specialization, and also by type of service provided. Contact professional conservators through the free Guide to Conservation Services of the AIC, AIC 1717 K Street, NW, Suite 301, Washington, DC 20006.
Telephone 202.452.9545
FAX 202.452.9328
Email   info@aic-faic.org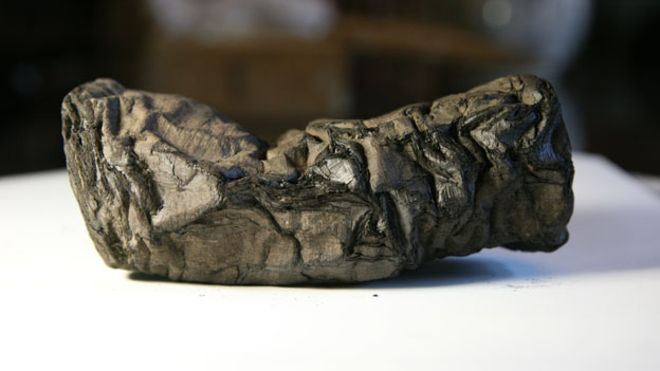 This is a burned "roll" of paper that scientists are now able to read using Computerized Tomography (CT scans). If they can read this- your Tank Sticker should be a breeze!
As always- post any questions, and I'll do my best to point you in the right direction!