Meet a man so nice that his friend gave him a Corvette!
More proof that "Nice guys don't always finish last"
Keen Parts Blog readers will surely notice that many of our articles share a common theme. Five earlier articles (and counting) tell the story of "Kevin," a Keen Parts customer who is restoring a classic 1958 Corvette that sat outside under a tarp for over forty years! Several people wanted to purchase the special car, but the family sold it to Kevin because he was a good guy- NOT because he was the highest bidder.
"Big Dookie" Shannon Poole is a professional drag racer sponsored by Keen Parts. Shannon has over 26,000 online fans, in part, because he gives back. He is the ultimate "good guy"- he is continually hosting fundraisers for friends in need.
Now, we will introduce a gentleman so nice that his friend gave him a beautifully restored 1973 Corvette!
Restore a Corvette well, and it might be yours someday!
It's a heartwarming story that continues into the upcoming car show season…
Watch for the whole story coming soon in Keen Parts New Blog!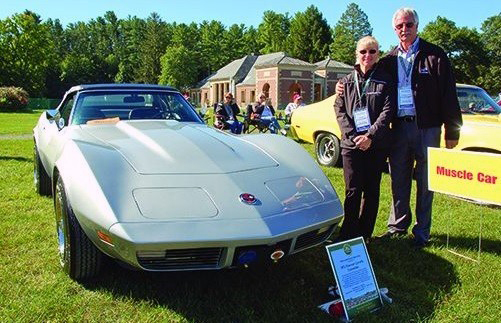 Mark and Sharon Nenichka and their award-winning 1973
Who are Keen Parts?
Keen Parts is a leading manufacturer and retailer of Corvette parts and accessories. We have over thirty years of happy customers all over the world and look forward to helping you with all of your Corvette needs. Our catalogs cover more than 26,000 Corvette parts and accessories. Our retail shop and warehouses are located in Cleves, Ohio, just north of Cincinnati. We are right off Interstate Highway I-74 and only six minutes from Cincinnati. We stock parts for Corvettes from 1953 to the present. If you own a Corvette- we have the parts and accessories that you need!
Business hours
Monday through Friday 8 am to 6 pm
Saturday 9 am to 3 pm
Sunday closed to be with our families
Phone / FAX / Email
800.757.KEEN (5336)
info@keenparts.com
800.757.5336
513.353.3449 LOCAL PHONE
513.353.3997 FAX
We would love to hear from you!
Keen Parts is located 10 minutes northwest of Cincinnati, Ohio just south of Interstate Highway I-74
Keen Parts, Inc.
6048 State Route 128
Cleves, Ohio 45002