Someday, your Corvette will live in someone else's garage. Your Corvette history will make it more valuable.
Your favorite Corvette secured safely in your garage will someday be living elsewhere. No one likes to think about that, but it is guaranteed. Our financial circumstances change. We need money for something that becomes more important than our sweet Corvette and no one reading this blog will live forever. Locating and preserving your Corvette history NOW will make it more valuable to the future owners and also easier to sell when the inevitable day comes. I have spoken with countless Corvette owners over the past three decades who would have been helped by this series of articles. I hope that you find them useful. If you do, please tell a friend!
Preserving your Corvette history
The fancy term borrowed from the world of fine art and antiques is "provenance," from the root "to prove." It's a group of materials (paperwork, documentation, history, photos, etc.) that establishes the item (namely your Corvette) is what it is purported to be. A continuous chain of ownership is also desirable. Is it a genuine fuelie? Was that option originally installed at the factory, etc.? Future purchasers can also get a valid idea of the care that the Corvette received depending on the amount and type of receipts. Your collection of provenance materials could be the difference between your Corvette selling quickly for the price you want or languishing unsold. A paper published in the Journal of Advanced Appraisal Studies determined good provenance adds 15% to the resale value of an item (like your Corvette!). That's quite a return for a few hours of easy work.
Provenance makes a difference
Imagine that you are shopping for another Corvette. You are considering two similar models with comparable prices. One car includes a large scrapbook full of photos of the car when it came home from the dealership; receipts from both major and minor trips to the same Chevy Dealer; parts receipts from a quality Corvette parts company (like Keen Parts!); and some impressive awards from Bloomington Gold. Would you have much of a decision?
You are the right person for the job!
Set your Corvette apart from the rest. Documenting your car's history can be a simple process full of good memories. Even so, you would be surprised by how many people neglect it. Taking the time to collect this info puts your car ahead of others. No one else in your family knows the car's history as you do. If there are receipts anywhere- it might take some effort to locate them, but you are the best person for the job. Time is not our friend. Delaying this project means the possible destruction of important and potentially valuable materials!
Start your Corvette history treasure hunt now!
Grab a bargain file or even a box and carefully gather up ANY and ALL paperwork/documents/images/computer files you can locate that pertains in any way to your Corvette. Anything with a VIN (Vehicle Identification Number) is especially relevant. I'm defining paperwork loosely. Don't ignore anything at this point. Even old photos are important. The older, the better. Original photos show the future buyer exactly what the car looked like way back when. Was it originally a rare and valuable color that was later changed? How thorough was the restoration? Once the final coat of paint is on the car, it's nearly impossible to know what was underneath.
The road ahead
Your first task is to collect everything remotely related to your Corvette's history. The next few blog articles will list the potentially valuable types of provenance you might find and ways to recover lost information. The final series of articles will determine what your best options are to preserve and display your Corvette's history.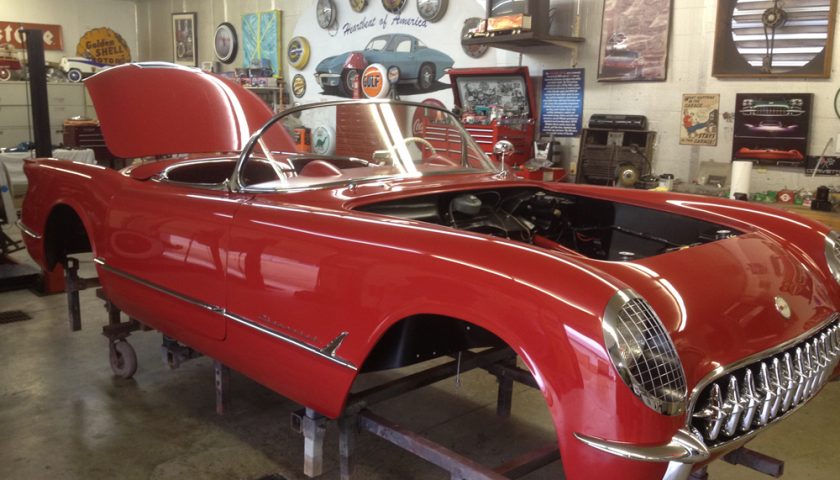 Digital history of the restoration of this red 1954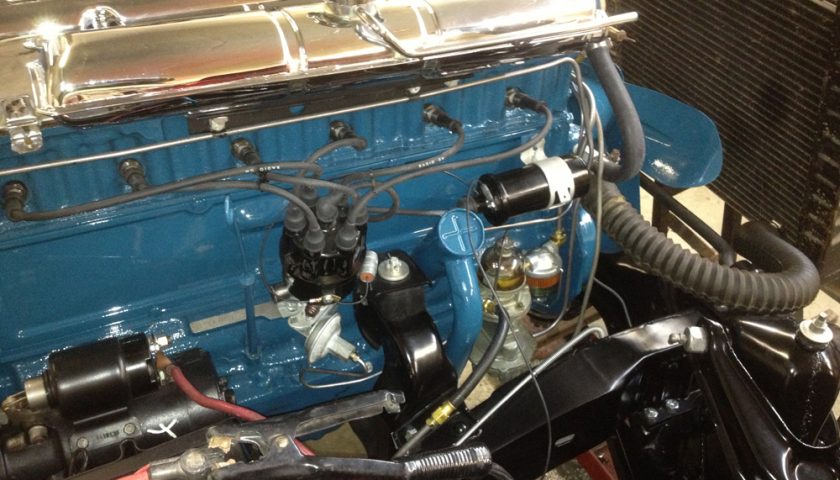 This image will provide information to a future owner

And this one, also.
As always- post any questions, and I'll do my best to point you in the right direction!